Image published 10 September, 2008
tagged Masquerade
Plague Doctor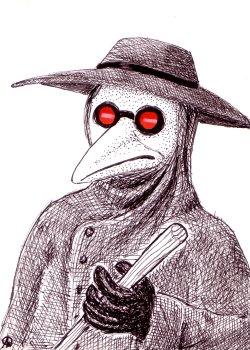 An ACEO I drew for someone in a pick-a-theme swap on [url=http://www.kakao-karten.de]kakao-karten-de[/url], to the theme "Middle Ages/Rennaisance"... When I read that the Black Death may be responsible for part of the Rennaisance, the idea to draw a plague doctor took root.
3.5 by 2.5 inches, Copic Multiliners and markers on heavy bristol paper
Galleries
Comments and feedback are always appreciated!