Midnight Fireflies by Scott Niven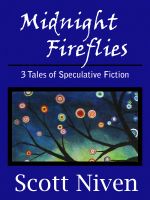 Under the (in hindsight apparently mistaken) impression that Scott Niven was a big name in Science Fiction who had started self-publishing older stories, I picked up this collection of "3 Tales of Speculative Fiction" from Smashwords.
Official Blurb:

Inside an intergalactic watering hole, a bizarre bet is made with high - yet unknown - stakes. In a nursing home, an elderly woman creates her own virtual reality. And in a medieval land, a boy in search of adventure stumbles upon a mysterious relic that will change his life forever. Midnight Fireflies collects these three tales of speculative fiction into one short story collection that will have you wondering "What If?" all night long.
A Mare Imbrium Wink
The backdrop of this story is a universe with various alien species, which may be watching humanity, which is still stuck on earth - so apparently "present day", more or less. The protagonist and viewpoint character belongs to an alien species that at one time in their life can merge with a (dead) member of another species, taking on their shape and parts of their personality. This specimen merged with a human scientist. Some characteristics he has taken on in that process - a longing for companionship and a certain cockiness - lead him into trouble.
This story mostly consists of aliens thinking or talking about characteristics of humanity at large. The ending breaks my suspension of disbelief and seems ridiculously harsh.
Fondest Desire
A nursing home provides immersive VR to its inhabitants. The protagonist of this story uses it to sit in a near-perfect copy of the actual nursing home, minus other occupants, to think about the past in peace - apart from a boy who sometimes shows up uninvited.
Nothing interesting happens. I get the impression this is meant as an essay about comparing VR and memories, encoded in fiction.
The Carrion Sphere
A young man kitted out with armour and sword goes into the woods for a rite of passage taking the shape of a solitary hunt. He finds a strange artifact that starts to talk... Sorry, I'm going to spoil the story here: He learns that the world has gone through cycles of humanity destroying itself through too much and/or the wrong technical advancement, and the artifact is supposed to tell people when to stop this time around.
The story ends with him deciding to take the artifact home.
In Summary each of the three stories gives me vibes of being constructed to convey a moral or message about humanity. Since I don't like that much, it all feels rather heavy-handed and lifeless to me. The fact that at least the first two stories have what I'd consider downer endings doesn't help. Not my cup of tea.
The formatting is tidy, including both a linked table of contents in the text, and one available through the reader, and copyediting seemed fine to me, too.
Total wordcount cracks 10,000; available for 99 cents on Smashwords